Our Culture
What happens when you mix together entrepreneurial drive, resources, passion and the urge to help people? A perfect storm. But as we endeavor to create an exceptional patient experience, we don't lose sight of what is important.
Certified 2023 Great Place To Work®
We take our employee experience and our culture very seriously and are honored to earn this prestigious certification. We are proud of our unique culture and the values that guide us at the Smilist.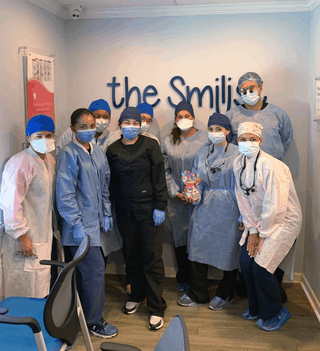 Our Values, The Smilist 7
Our path is guided by seven values. Our HAPPIER values are woven throughout the fabric of our organization and remain at the core of all we do.
Honesty & Integrity
We say what we think and do what we say
We are willing to admit when we've made a mistake
We are not afraid to speak up
We do not cut corners
Aiming Higher
We aim to give 110% not sometimes but all the time
We strive to grow as individuals and strive to make people around us better
We constantly think of better ways to do things (and then do them)
We always think of ways to invent and simplify
Pioneering & Entrepreneurial
We care intensely about our success
We are doers and not just talkers
We all make a difference
We are builders
Positive Force
We impact and change lives
We serve the community and are good neighbors
We see the good in people
We lead by example and have a bias for action
Inspired & Inspiring Others
We think big, have fun and do good
We believe in our goals and care deeply about our success
We leave our egos behind
We celebrate our wins
Excellence
We care for each of our patients as if they were our family
We have an obsession for patient care
We are always finding ways to say yes
We hire and develop the best
Respect
We realize that our potential as a team far exceeds that as individuals
We respect what we do and respect the way we do it
We help others and are willing to let others help us
We earn each other's trust by listening attentively, speaking candidly and treating others respectfully
We Work Hard, We Play Hard
Our close-knit team of Office Managers, Dentists, Operations and Insurance Specialists, Marketing gurus and Finance professionals spend time together in and out of the office.
See What Our Team Is Saying About The Smilist Dental
"The Smilist has a wonderful culture. There is an amazing team-like atmosphere where you feel like your co-workers and managers value and respect you. There are also great benefits like a 401k, paid time off, and many different bonus programs! I have met co-workers here who have turned into friends that I know will stay with me going forward."
Director – Great Neck, NY
"Upmost professionalism and caring towards patients and staff. Wonderful Staff. Team players. Awesome management"
Dental Assistant – Manalapan, NJ
"The Smilist is a fairly new company, however we have been able to grow in such a small amount of time. The frequent changes have stressed some employees out but the changes are due to evolving for the better. We are able to take care of patients efficiently and faster. During the COVID pandemic we have been able to see the true character behind The Smilist. A caring and loyal company. They have tried to retain most employees and have gone above and beyond."
Regional Manager – Nassau County
The Smilist Gives Back
The Smilist Back-to-School Supplies Drive
As parents and children are getting ready for the new school year each summer, employees at The Smilist Corporate and Dental offices gear up for their annual Back-to-School Supplies Drive benefiting children in need.
The Smilist Food Drive
We are honored to hold a food drive for less fortunate members of the community. Items are donated to local food banks, Churches and Community Centers.
Volunteer Efforts
Each year many of our employees go above and beyond and participate in various Dentistry Days both near and far. Whether in our local communities or abroad, the Smilist team is dedicated to improving the health of all those we care for.
Community Education
Educating our local communities is our way of showing how much the Smilist truly cares about your oral health. We want you to have healthy, long-lasting teeth so why not learn how this can be done us.